LES Britain & Ireland are thrilled to announce that the 2023 Annual Conference
will take place in DUBLIN this June!
EMBRACING EMERGING TECHNOLOGIES
Licensing has over the years proved to be an effective tool for the sharing of knowledge and the opening up of new markets and sectors.
The LES Britain & Ireland Annual Conference will, with a roster of experts in the field, explain how through licensing and collaboration it is possible to meet the challenges posed by a technology revolution in diverse areas such as the green economy, artificial intelligence, life sciences, university spin-outs and much more.
VIEW THE PROGRAMME & SPEAKER BIOS
KEYNOTE SPEAKERS:
"The increasing importance of public Intellectual Property support for SMEs and Startups"
SMEs provide the majority of employment and value-add in modern economies and innovative SMEs that own their intellectual property contribute disproportionately more to the wider economy.  Already governments and regional authorities, like the EU commission, commit significant public resources to support these companies to conduct research, development and innovation.  However the IP activity of these firms remains relatively low.  This presentation will cover the emerging trend to provide public IP supports, to complement RD&I investments, to help these companies to use IP to grow their businesses and maximise the return to the economy and society.
– JOHN POWER, CEO, Aerogen
"Aerogen from bootstrap startup to global leader-  a 25 year journey" 
Aerogen was founded 25 years ago above a butcher's shop in the West of Ireland. Today the company's products are used in 80 countries around the globe. With close to 300 patents and numerous international awards and over 16 million Acute Care patients have benefited from Aerogen superior aerosol drug delivery.
It's Founder CEO John Power, will tell the fascinating story of this global success. John will explain how Aerogen experienced the full range of corporate transactions from Seed funding, In License / Out License , NASDAQ IPO, market crash, hostile takeover, Leveraged MBO and creation of a Specialty Pharma SBU which now promises to transform premature care. He will also discuss the company's approval and launch of the worlds first Covid 19 Aerosol Vaccine Station, which to date has successfully administered vaccine to over 50million people.
Click here for the manual registration form.
We are offering a special group rate:
€1,000 for 5 registrations OR €1,850 for 10 registrations
In order to receive this offer, please contact the LES B&I Admin Office les@northernnetworking.co.uk
The Conference will be followed by a Dinner at Trinity City Hotel (€65).
To secure the best available accommodation rate at Trinity City Hotel for 1 – 2 June, please email Melissa Bradley (groups@trinitycityhotel.com) and reference discount code 2305NORTHE.
---
LES100 TRAINING COURSE

The full-day LES100 Training Course, "Commercialising IP through the Power of Licensing" will be held on Thursday, 1 June.
This is the introductory course in the Licensing Executives Society's Intellectual Asset Management Series and it is designed for those who are relatively new to licensing.
It is specifically aimed at:
-SMEs who require an introduction to licensing Intellectual Property (IP),

-Those who are new to or considering a career in licensing and technology transfer,

-Lawyers and Patent and Trade Mark Attorneys looking for greater familiarity with the business of IP licensing,

-Entrepreneurs who need to understand the value of their IP,

-Technologists who want to understand how to identify and monetise IP,

-Those working in university technology transfer, and

-Students interested in learning the basics of IP and how to commercialise IP through licensing.
More information can be found here.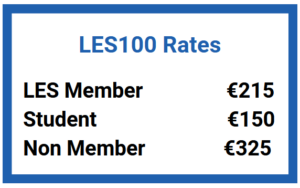 Click here for the manual registration form.
---
Thank you to our sponsor!
Sponsorship Brochure will be launching soon!
Please contact les@northernnetworking.co.uk for more information on sponsoring or if you have any questions regarding the Conference/LES100.