LES Britain & Ireland are thrilled to announce that the 2023 Annual Conference
will take place in DUBLIN this June!
EMBRACING EMERGING TECHNOLOGIES
Licensing has over the years proved to be an effective tool for the sharing of knowledge and the opening up of new markets and sectors.
The LES Britain & Ireland Annual Conference will, with a roster of experts in the field, explain how through licensing and collaboration it is possible to meet the challenges posed by a technology revolution in diverse areas such as the green economy, artificial intelligence, life sciences, university spin-outs and much more.
VIEW THE PRELIMINARY PROGRAMME
KEYNOTE SPEAKERS:
– JOHN POWER, CEO, Aerogen

Click here for the manual registration form.
The Conference will be followed by a Dinner at Trinity City Hotel.
– Double room (single occupancy) B&B – €255 per night
– Double room (double occupancy B&B – €275 per night
To book, please email Melissa Bradley (groups@trinitycityhotel.com) and reference discount code 2305NORTHE.
Payment is due at time of booking. You can cancel 28 days prior to arrival. This rate is only guaranteed until 2 May 2023.
---
LES100 TRAINING COURSE

The full-day LES100 Training Course, "Commercialising IP through the Power of Licensing" will be held on Thursday, 1 June.
This is the introductory course in the Licensing Executives Society's Intellectual Asset Management Series and it is designed for those who are relatively new to licensing.
It is specifically aimed at:
-SMEs who require an introduction to licensing Intellectual Property (IP),
-Those who are new to or considering a career in licensing and technology transfer,
-Lawyers and Patent and Trade Mark Attorneys looking for greater familiarity with the business of IP licensing,
-Entrepreneurs who need to understand the value of their IP,
-Technologists who want to understand how to identify and monetise IP,
-Those working in university technology transfer, and
-Students interested in learning the basics of IP and how to commercialise IP through licensing.
More information can be found here.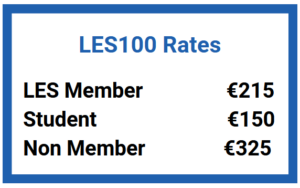 Click here for the manual registration form.
---
Thank you to our sponsor!
Sponsorship Brochure will be launching soon!
Please contact les@northernnetworking.co.uk for more information on sponsoring or if you have any questions regarding the Conference/LES100.